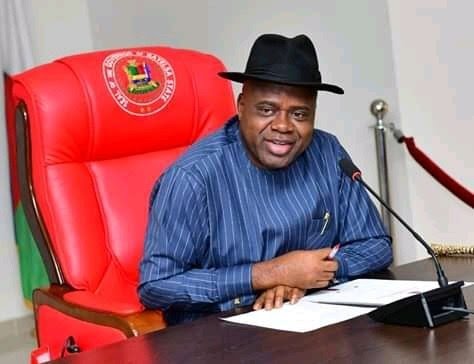 Bayelsa Assembly approves Diri's N30bn loan request
The Bayelsa House of Assembly on Wednesday approved a request from Governor Douye Diri for another N30 billion loan.
The request was contained in a letter sent to the legislative arm by Mr. Diri which was read on the floor of the House by the clerk.
According to the letter, the loan will be used to accelerate ongoing projects in the state.
Projects include the Outer Ring Road, AIT/Igbogene Road and other major projects in the state.
The News Agency of Nigeria (NAN) reported that part of the loan will also be used to launch the Nembe/Brass road which has been on the drawing board for many decades.
Speaking in support of the loan, House Leader Monday Obolo, representing South Ijaw Constituency 1, said everyone in Bayelsa was aware of the number of projects underway in the state.
He urged the house to approve the loan to ensure inclusive development in the state.
Other speakers include Tonye Isenah from Kolokuma/Opokuma Constituency I, Tare Porri from Ekeremor Constituency I and Koku Oyal among others.
House Speaker Abraham Ingobere said the loan was for state development and would cut across all three senatorial constituencies.
Mr. Ingobere described the governor as a prudent man, noting that he used state resources wisely.
He said he has no doubt the governor will use the money for its intended purpose if the loan is approved.
"For Bayelsa State to be economically viable, we need to have hinterland roads and ensure that the roads touch the sea. The money, if collected, will not affect the allocation federal in the state.
"The wages of the workers will not be affected; pensioners will receive what is due to them at the end of the month.
"No one's salary will be affected; therefore, we will back the loan and throw our weight behind the governor.
"The loan will be repaid by money expected from the state deducted from overtime by the Nigerian National Petroleum Corporation under a 13% diversion," he said.
The 24-member House unanimously approved the loan request to be obtained through commercial banks or capital markets through bonds.
(NOPE)
---
Support the integrity and credibility journalism of PREMIUM TIMES
Good journalism costs a lot of money. Yet only good journalism can guarantee the possibility of a good society, an accountable democracy and a transparent government.
For free and continued access to the best investigative journalism in the country, we ask that you consider providing modest support to this noble endeavour.
By contributing to PREMIUM TIMES, you help sustain relevant journalism and keep it free and accessible to everyone.
Make a donation
---
---
---
---
ANNOUNCEMENT TEXT: To advertise here . Call Willie on +2347088095401…
---
---
---